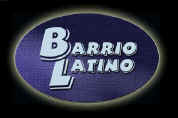 About the Band
Calendar
Blog
Photos

Visit our friend's sites
Special thanks to John Samora. Please click on his name to visit his site.
All Band Photos Copyright 2006
To listen to and Order Barrio Latino's latest release,

"Come On"
---
For Booking information email the management. or Call Andy@ 623-915-7877
Questions or comments about this page?
email the webmaster.